This week marks 70 years since Hy-Vee a store in Campustown, then called Supply Food Store. It opened on October 5 and was renamed Hy-Vee (along with the company) the following summer.
Despite the store's location just a block from Friley Hall, the Iowa State Daily didn't write about the store's opening (that I could find), and after a couple days, ads from Supply Food Store become scarce. The Ames Daily Tribune published a story about the supermarket's grand opening the same day the ad appeared in the Iowa State Daily.
Ames Newest Supermarket to Open Tomorrow

Ames' newest modern supermarket, the Supply Food Store, 112 South Sheldon, will have its grand opening tomorrow and Saturday with a Studebaker Champion and more than $1,000 in groceries to be given away free. There will also be free helium-filled balloons for the children.

Registration for prizes will begin as soon as the store opens at 9 a.m. tomorrow and will continue all day tomorrow to 9 p.m. and all day Saturday from 8 a.m. to 9 p.m.

Food baskets will be given away at 9 p.m. both Friday and Saturday. Registration for the Studebaker, which will be given away Nov. 5, will continue for 30 days. The new supermarket is one of 30 stores operated by the Chariton Wholesale Grocery company of Chariton, la., 22 in Iowa and eight in Missouri.

SELF-SERVICE MEATS

The 60 by 120 foot store will feature a 44 foot self service meat counter with easy-to-shop display cases. The wrapping department is located directly behind the showcase. Also featured are refrigerated cases for frozen fish, poultry, frozen foods and dairy products. A self-service coffee grinder has been installed in the coffee department for the convenience of the buyer.

The store has four cash register for checking out. Magic carpet doors open by themselves as the customer nears the door. There is a paved parking lot to the north of the building for customers' convenience.

Regular store hours will be from 9 a.m. to 9 p.m. Monday through Saturday.

Manager of the new supermarket will be Roy Frizzell, of Osceola, who has been associated with the firm since 1937 He will live with his wife and two sons at 3015 Story street.

Ames Daily Tribune, "Ames Newest Supermarket to Open Tomorrow" from 4 Oct 1951
The store was located on the west side of Campustown just south of Clyde Williams Field (where Martin Hall and a parking lot are now located) at 112 South Sheldon. The store was the first of its kind in Campustown (and West Ames), an increasingly growing neighborhood that had only had small grocers for decades. A supermarket was a sign of progress.
The automatic door was the first of its kind in Ames, and the long-time residents I interviewed for my book remember the door. It was a big deal.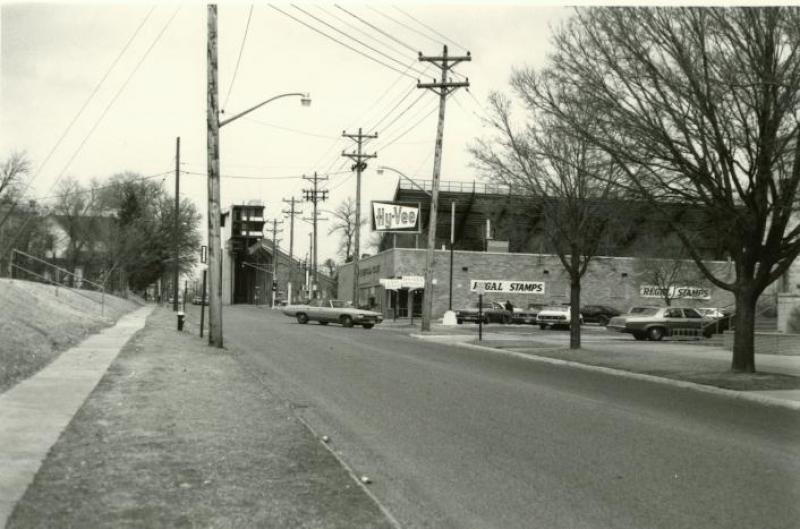 This 1970 photo looking up South Sheldon shows both Hy-Vee and in the background, the stands of Clyde Williams Field. (It's one of my favorite Campustown photos.) There's also this 1959 aerial photo where you can see the size of the store and the parking lot.
The backstory states that Joe Whattoff, who operated a Studebaker dealership (not the Studebaker Champion prize for opening day), thought the Chariton-based Supply Stores should open a supermarket in Ames, so he called the company. It set the wheels in motion. Some months later, Whattoff was constructing the building that Supply Stores would use for its first Ames store. The store was expanded – increasing more than 50% in size – in the 1960s but still a small fraction of the size of either current Hy-Vee in Ames.
In August 1952, the company changed its name to Hy-Vee following a contest. An ad in the Tribune announced the name change (I didn't see anything in the Daily).
We Changed Our Name

After doing business for years under the name of SUPPLY STORES, we feel it advisable to change that name!

HERE'S WHY:
1. There are conflicting names in some towns, and our stores all do not use the same name. We want to eliminate such confusion by standardizing that name. HY-VEE is our choice!
2. SUPPLY STORE is used on all sorts of businesses–AUTO SUPPLY, FEED SUPPLY, BOOK SUPPLY, MACHINERY SUPPLY stores. Such conflicts in many towns add to confusion in mail and location!
3. We have wanted a name more fitting for our company and our service. Our company is HYDE, and VREDENBURG, INC. Our service is based on VALUE, VARIETY and VOLUME. Our new name—HY-VEE reflects all those factors in one easy to say, easy to remember name!

REMEMBER: Same Friendly Clerics
Same Low Prices
Same Modern Stores
Same Ownership

BUT NOW CALL IT
HY-VEE FOOD STORES

Ames Daily Tribune, "We Changed Our Name" from 14 Aug 1952
The building still stands. Hy-Vee left Campustown around 1980 for its current, bigger location in west Ames. Campus Baptist Church eventually bought the building and for nearly two decades it was Jocko's Auto Parts. In 2000, Campus Baptist Church sold its buildings to neighboring Collegiate United Methodist Church but still rents the building for its student ministry, The Lighthouse. The building remains a popular fellowship space.